2023-05-31 20:33:00
Research by Canalys points to strong growth for Apple in the US tablet market in the first quarter of 2023, with Amazon in second place and Samsung in third. In this case, the Cupertino company is impressive for dominate 50% of that market in the US. In other words, one out of every two tablets sold in the country in the last three months was an iPad.
Apple still managed to increase its quarterly US tablet sales in the first three months of last year by a substantial 20.5%, while Amazon, Samsung and Microsoft saw their numbers fall by 25.7%, 19.6% and 30.4%. %, respectively.
The US tablet market as a whole saw a 6.8% drop due to demand disputes among other industry players, but it's already a better result than the 19.1% total drop in global shipments estimated for the same period.
In parallel, Samsung's Galaxy Tabs are less successful in the US than the Amazon Fire today, while TCL is in fourth place with an unexpectedly large lead over Microsoft, after keeping its regional sales figures unchanged from the first quarter of 2022 and the first quarter of 2023.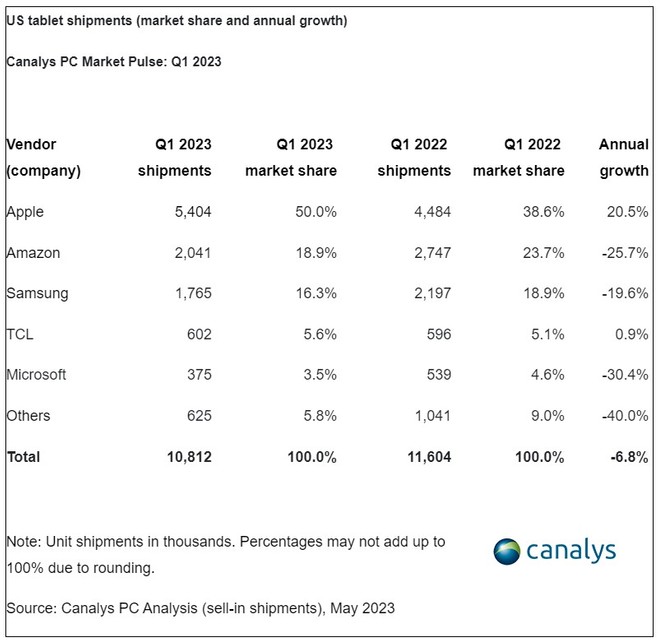 Still talking about Apple, despite the good result in the tablet market, the same cannot be said about the Mac family of desktops and notebooks, which fell 35.8% compared to the first quarter of 2022. The drop is also reflected in brands like Dell, HP, Lenovo or Acer, showing a smaller market than last year, today with just over 14 million units sold, against around 19.5 million.
1685584066
#Apple #iPads #dominate #tablet #market #survey #finds