2023-05-29 22:00:26
KHEAthe renowned Latin trap artist, confirmed his long-awaited return through the release of his first album: SEROTONIN. This comeback project marks a new era for the musician, showing his evolution through various sound journeys and stories that he went through in this year of distance from the stage. Known for paving the way for many of today's rising Argentine trap stars, KHEA illustrates in this work the emotions and vulnerability of dealing with the intense reality of life, often experienced with depression.
In this way, SEROTONINA presents an eclectic collection of songs that incorporates genres such as alternative rock, salsa, amapiano, reggaeton and bachata. A 13-song introspective journey, the album blends KHEA's sharp writing and storytelling with pop and other global genres, taking listeners on an instrumental journey unlike any other in the artist's artistic history.
Produced by Colombian prodigy Nobeat, mastered in Argentina by Mariano Bilinkins and written by KHEA along with acclaimed composer SpreadLof, SEROTONINA follows the release of the enigmatic announcement trailer, which has been released in theaters in Spain and Argentina, as well as those already presented. "Eclipse". and "Para Amarte A Ti" with Tiago PZK, a powerful ballad that reconnects KHEA with her own role as a singer (so missed by her fans), poetically describing the tug of war one has when struggling with the emotions provoked by love. And the mind.
SEROTONINA delves into various themes, including the strong sense of romance and love swings present in tracks like "Con un beso," "Efecto" and, the reggaetón track, "Feeling." The album also explores movement and dance with genres such as salsa ("Sin corazón") and bachata ("Como yo te quiero"), while storytelling and storytelling typical of Caribbean genres is also very present, testimonial of KHEA's talent as a composer. The album also features South African-born genre Amapiano ("Never Go Solo" featuring Milo J), building community and conveying a message of unity.
The recording of SEROTONINA took place during a tumultuous time in KHEA's life. Through the album's songwriting, she exposes an emotional spectrum of joy, love, heartbreak, and the feelings of uncertainty that were present during her most depressing moments. The opening track sets the tone for this, with a personal monologue in which she reviews her life and career decisions, as well as her condition, over a sinister beat. In tracks like "Battle," she shares her inner battles, while "Eclipse" stands as a metaphor and pun on these negative realities, dimming their light.
SEROTONINA is a healing and recovery product but it also serves as liberation, joy and motivation. The current phase of KHEA is full of reflection and maturity. The album is a reintroduction of KHEA, showcasing her growth and versatility as an artist, and is a must for fans of Latin trap and global genres.
About Khea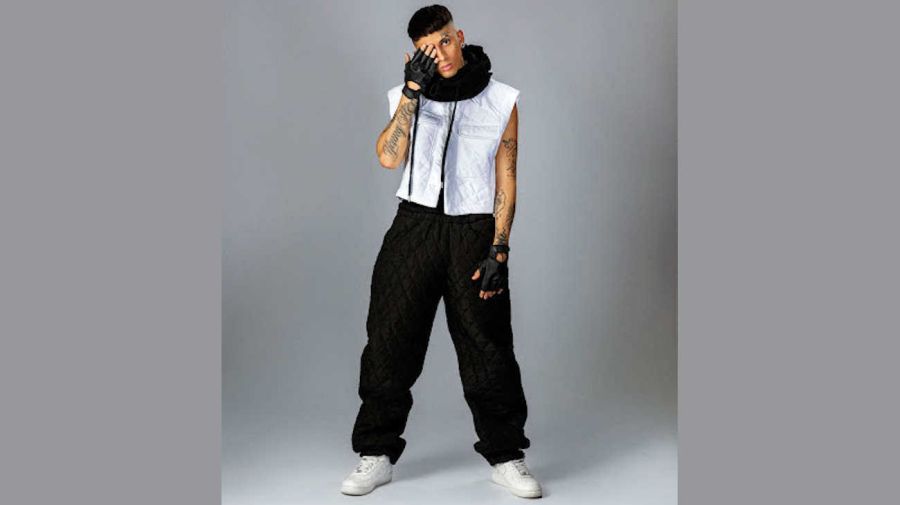 At just 23 years old, KHEA has become one of the biggest names in Latin American trap music with over 8 billion streams. His rise to fame was due in part to the release of his hit single "LOCA," which featured Duki and Cazzu. The song quickly caught the attention of music superstar Bad Bunny who jumped to the remix creating a worldwide hit. Both versions of the track have now amassed a combined 1.2 billion streams on Spotify and YouTube.
KHEA's success continued with a string of hits such as Dónde Estás, Ayer Me Llamá Mi Ex Llamó con Lenny Santos de Aventura, Ayer Me Llamó Mi Ex (Remix) con Natti Natasha y Prince Royce, y Te Necesito con Maria Becerra. He has also collaborated on world hits like Ella Dice with TINI, KHEA: Bzrp Music Sessions, Vol.34 with Bizarrap, "Wacha" and She Don't Give a Fo with Duki, Déjame Tranki with LIT Killah and Argentine trap anthems like Tumbando. el Club (Remix) with Neo Pistea, CRO, YSY A, Cazzu and Además de Mi (Remix) with Rusherking, Duki, Maria Becerra, Lit Killah and Tiago PZK.
KHEA has performed at more than 150 shows, including some of the most emblematic venues in Argentina and Latin America. He has also been invited to participate in important festivals such as Lollapalooza Argentina and Lollapalooza Chile, Creamfields Chile, Hellow Festival Mexico and Coca Cola Flow Fest Mexico. He was also invited to perform at concerts by Daddy Yankee, Anuel AA and Nicky Jam in Argentina and Paraguay. His return to the stage in Europe led him to perform at important events in Spain such as Primavera Sound, Boombastic, O son de camino and Riverland. Previously, he was one of the first Latino artists to perform at Tomorrowland, Poland Open'er, Tinderbox, Wireless Germany and Les Ardentes.
KHEA has had the privilege of collaborating with numerous prominent artists such as Bad Bunny, Blackbear, OneRepublic, C Tangana, Rauw Alejandro, Eladio Carrión, Sech, Feid, Dalex and Myke Towers, among others. Each collaboration has allowed him to grow and as of now, he has over 14 million followers on his social media platforms and over 10 million monthly listeners on Spotify.
1685398375
#Khea #returned #artist #returns #music #album #Serotonina