The Kiho Ilbo, which had falsely reported that Kim Eun-hye, a candidate for People's Power, had been elected before the results of the Gyeonggi governor election, which was a close match for the June 1 local elections, issued an apology, but the Kiho Ilbo's labor union issued a statement that the editor-in-chief should step down. .
Previously, the Kiho Ilbo reported on pages 1, 3, and 6 of the newspaper (Incheon/Gyeonggi edition) and Internet articles on June 2 that the elected Gyeonggi Governor-elect in the 6.1 simultaneous nationwide local elections was not Kim Dong-yeon, but Kim Eun-hye, the People's Power candidate.
[관련 기사: '김은혜 경기도지사 당선' 기호일보, "예단이 부른 오보" 사과]
After the apology, the National Federation of Democratic Trade Unions (KCTU) and the Kiho Ilbo branch of the Incheon area general labor union (hereafter the Kiho Ilbo union) issued a statement on the 7th, arguing that the editor-in-chief should resign after making a false report.
The Kiho Ilbo union said, "This is a absurd situation that cannot or should not happen in a media company that should regard truth and trust as gold and silver. This is an unprecedented case in the media."
The union of the Kiho Ilbo said, "This is a serious violation of the right to know of the local community and readers, and it also violates the rules of fair reporting of the Korean Journalists Association, which have a strict objectivity and duty to choose accurate information and inform the truth." Ilbo members are in a situation where they respond with a complicated and miserable feeling without knowing the full details of the misinformation incident, and they are immersed in a sense of shame," he said.
The Kiho Ilbo's management posted an apology on its website on June 2, and the next day, June 3, posted an apology to the reader on the front page of the newspaper.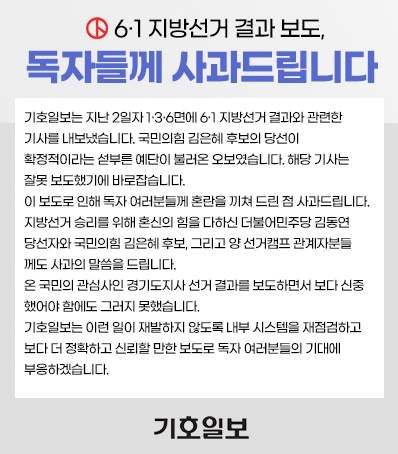 Regarding this apology, the union also said, "Unlike articles of misinformation, the readers pointed out the apology written silently at the bottom of the front page as if it were hidden. It was a forced apology," he pointed out.
The Kiho Ilbo union said, "The editor-in-chief who caused the unprecedented misinformation should step down, fulfilling the responsibility he stated in his apology to the executives and employees. It was a tragedy that occurred while making newspapers with complacency, trapped in the old ways and thinking without a systematic reporting and production system."
At the same time, the Kiho Ilbo union demands that the management and editorial board make a sincere apology to citizens and employees, promise to prevent a recurrence, and use this incident as an opportunity for desperate self-reflection to set up a task force team to introduce a proper reporting and production system. did.
The Kiho Ilbo union said, "On behalf of the management and editor-in-chief who are trying to get over it, we bow our heads and apologize to the people, Gyeonggi-do residents, and readers who must have been confused by the misinformation, and also apologize to the party and losers."
In a phone call with Media Today on the 7th, the management of the Kiho Ilbo said, "We do not have a special position."