2023-06-02 18:03:00
2023/06/03 03:03 Weather News
Due to heavy rain, the Ayase River (Yakou section) flowing from Saitama Prefecture to Tokyo has risen, and flood danger information (equivalent to alert level 4) has been announced.
It was the Yakou Water Level Observatory (Soka City, Saitama Prefecture) on the Ayase River that reached the flooding danger level. may occur.
Since it is dangerous to move to an evacuation center at night, ensure your own safety by moving to a place away from cliffs and slopes, or to an upper floor that is less likely to be flooded.
In addition, the Naka River, which flows nearby, is also rising, and flood danger information (equivalent to alert level 4) has been announced.
» Rain cloud radar
Watch out for landslides with heavy rainfall
Intermittent rain even after the special warning was switched to a warning
Typhoon No. 2 activates the rainy season front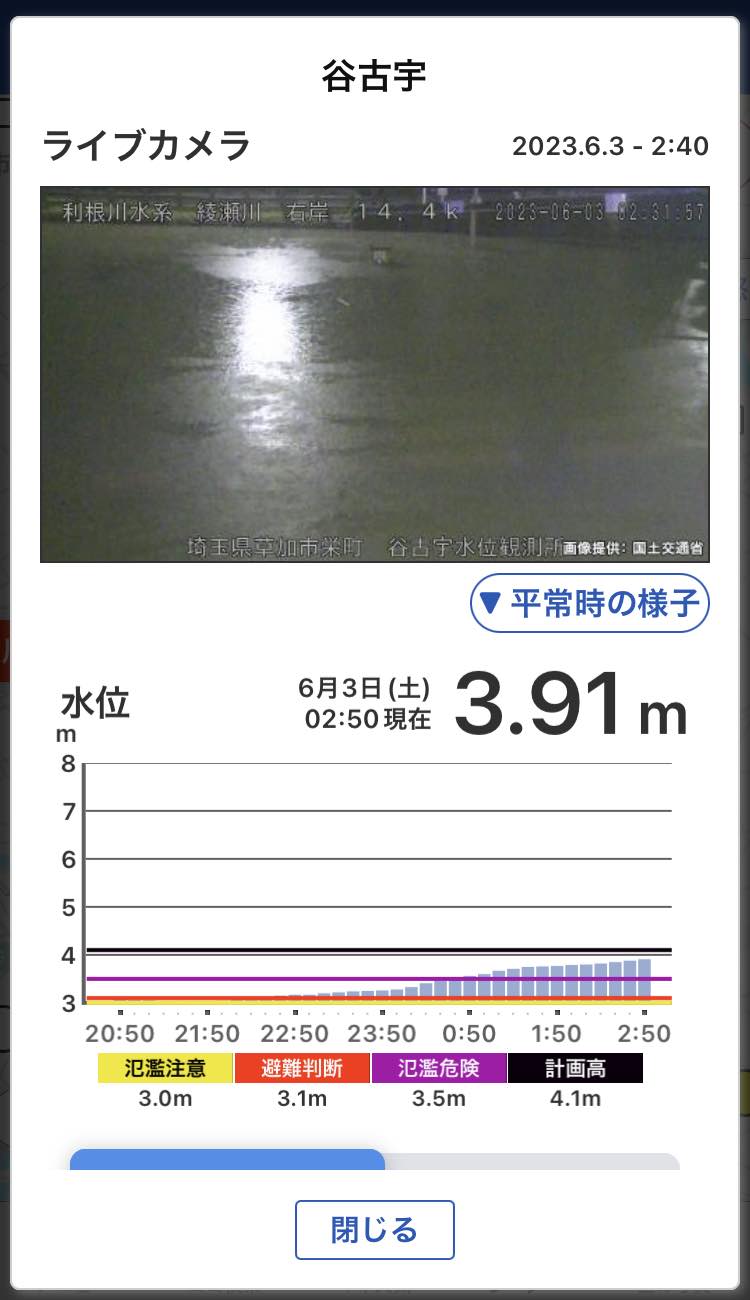 From Weather News App
The moist air that circulates around Typhoon No. 2 flows toward the seasonal rain front that is stagnant near Honshu, and rain clouds develop, causing heavy rains over a wide area from western Japan to eastern Japan.
In the Kanto-Koshin region, the peak of rain is expected to continue until the morning of the 3rd (Saturday) today, and there is a risk that the water level of the river will rise further in the future.
Even if you are worried about the situation, please do not go to see the state of the river.
» River water level/Live camera
The risk of landslides is also increasing. If you live in an area where there is a risk of landslides, such as near cliffs or rivers, try to evacuate early and pay attention to information such as evacuation advisories issued by municipalities.
Heavy rain due to linear rain belt continues
Reference materials, etc.
1685744412
#Saitama #Tokyo #Ayase #River #flood #Flooding #danger #information #equivalent #alert #level #announced #Weather #News