Where is Ronaldo? Fans are protesting against the poster released by FIFA
Qatar World Cup has entered the final stages. The first match between Brazil and Croatia will take place when the quarter-final match begins today.
FIFA shared a poster on its official social media page featuring each of the star players from the eight teams that made it to the quarter-finals. The pictures are arranged according to the competition of the team and their opponents who will face each other in the quarter.
Messi, Neymar and Mbappa are all lined up in the poster, but Portugal superstar Cristiano Ronaldo is not there. Many fans have commented below FIFA's post asking where Ronaldo is. Several protest comments can also be found below the post.
FIFA has prepared very interesting cartoonized images of each team's players eating popcorn and telling jokes while sitting in the theater. France star Kylian Mbappé and England captain Harry Kane can be seen happily talking in the first row.
Who's your favourite 🔟 at the #FIFAWorldCup?#Qatar2022 pic.twitter.com/XcIJSYBiFY

— FIFA World Cup (@FIFAWorldCup) December 8, 2022
Argentina's captain Lionel Messi and Netherlands' Gacpo are in the second row. The view from the back is that Croatian captain Luka Modric is blown away by Brazilian super striker Neymar's mischief.
Morocco's superstar Ashraf Hakimi can also be seen smiling at the back. Bruno Fernandes can also be seen grabbing popcorn from outside the vacant Portugal seat.
🇭🇷 🆚 🇧🇷

You can't miss this.#FIFAWorldCup #Qatar2022

— FIFA World Cup (@FIFAWorldCup) December 9, 2022
The fact that Ronaldo was not included in this poster led to a lot of criticism from fans. Some commented that this is a sign that Ronaldo will be on the bench in the quarter-finals.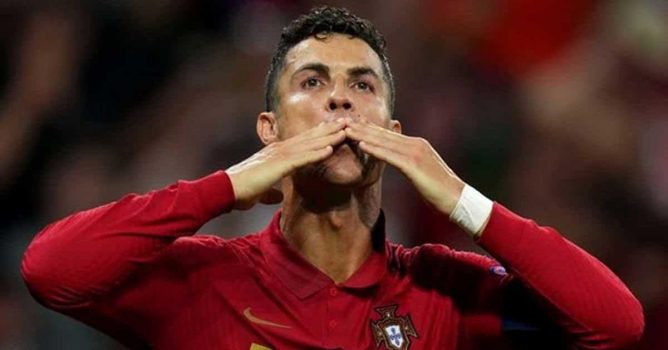 The player was on the bench in the pre-quarter match against Switzerland. Ronaldo was brought on only in the last minute of the second half of the game.
The fans noted that it is a very painful sight for a legendary player like Ronaldo, who has proved his talent and ability, to be out of form and to be on the bench in a tournament like the World Cup.
Content Highlights: Cristiano Ronaldo is missing in FIFA's poster