Chinese netizens suspect that the rich brows and big eyes in the photo, Cheng Chen (left), and Zhao Lijian may not be uncles and nephews. Because the two have different surnames, they may be children of acquaintances, but the photos show that the two have a good relationship.Figure: Retrieved from stefab Twitter
"Wolf Warrior" Chinese Foreign Ministry Spokesperson Zhao Lijian has been receiving negative reports recently. Following his wife beating and being diagnosed with "bipolar disorder" by a famous doctor, Chinese Internet has recently spread his "girlfriend" Cheng Chen. (English name Sabrina) is a high-profile display of wealth. During the epidemic, the bank account in China increased by 80 million yuan in one day, and the transfer red envelope in 2021 will be nearly 10 million yuan. After the news came to light, Cheng Chen's Douyin account was emptied, which raised questions from the outside world.
Recently, many second-generation officials in China have "turned over" to show off their wealth. Among them, the most controversial one is Zhao Lijian's "girl" Cheng Chen who was caught by netizens for showing off his wealth in a high-profile manner. The Twitter account "Ziwei Xingming" broke the news that Cheng Chen often made a high-profile show on the Internet. On April 17, 2021, her Chinese bank account actually received 53.84 million yuan, 8.72 million yuan and 17.44 million yuan in one day. The total amount is 80 million yuan (about 356 million Taiwan dollars).
The Twitter netizen broke the news again in the message area. Cheng Chen also shared her annual expenditure in 2021, which is as high as tens of millions of yuan, of which the transfer red envelope is 9.19 million yuan, compared with the monthly income of 600 million people in China Less than 1,000 yuan, "it's a world of difference"! It turned out that her grandfather was a red dignitary. No wonder Xi Baozi shouted every day that "the red country cannot change color". It turned out that he wanted to protect the red dignitaries and corrupt officials from being liquidated!
Chinese Internet media pointed out that the scene where Cheng Chen's grandfather took the photo was a meeting in the Great Hall in Beijing, and there was a photo of the secret wine in Diaoyutai, with the message "Drink it up" underneath. The exposed photo of Cheng Chen and Zhao Lijian was taken in January 2021, and it was suspected to be taken on a high-end occasion.
According to Chinese netizens, all the content of Cheng Chen's Douyin account has been emptied, and relevant screenshots on Chinese social platforms have been blocked one after another, adding to the suspicion that there is no silverware here. "Little Myrtle Star" criticized it, no wonder Zhao Lijian would say "living in China, you can just have fun"!
At present, all the content of Cheng Chen's Douyin account has been emptied, and relevant screenshots on Chinese social platforms have also been blocked one after another, which makes people doubt that there is no silver 300 taels here.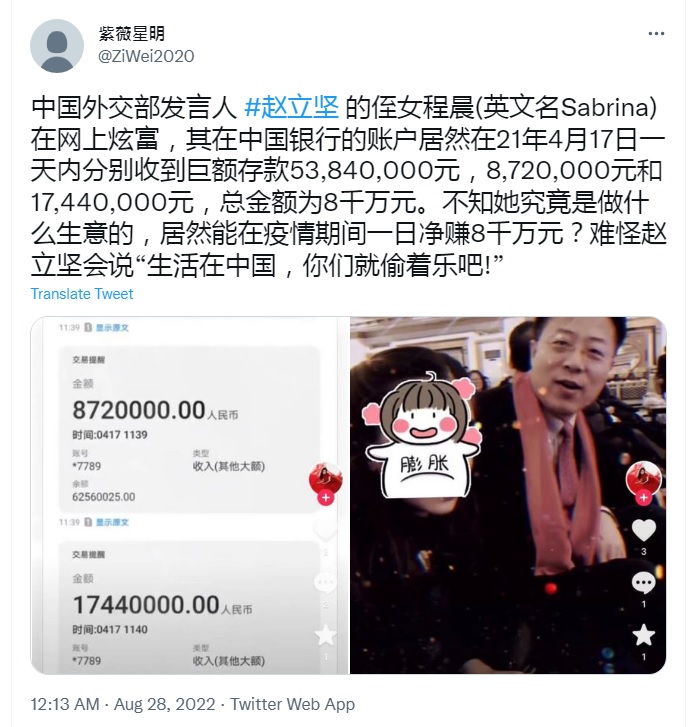 Chinese netizens broke the news on Twitter that Cheng Chen, the daughter of Chinese warrior Zhao Lijian, showed off her wealth. During the epidemic in 2021, China's bank account increased by 80 million yuan in one day.Figure: Retrieved from Ziwei Xingming's Twitter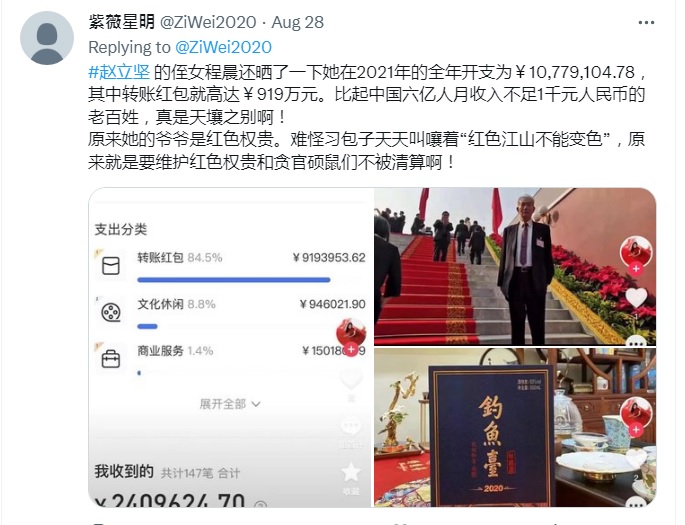 It is believed that Cheng Chen, Zhao Lijian's concubine, not only showed off her grandfather's participation in the meeting in the Great Hall in Beijing (top right) and received the Diaoyutai secret wine (bottom right), but also showed off her red envelope as high as 9.19 million yuan.Figure: Retrieved from Ziwei Xingming's Twitter