A team of urologists at Menoufia University Hospitals, headed by Dr. Mohamed Kamal Omar, Assistant Professor in the department, succeeded in extracting a 7-year-old neglected surgical towel from a patient's abdomen during a previous surgery..
Dr. Mohamed Kamal, the head of the surgical team, indicated that the patient, 60 years old, came to Menoufia University Hospitals suffering from a frequent rise in temperature and the inability to eat. The Yemeni kidney was removed from it 7 years ago, and a team from the Department of Urology, under the supervision of the head of the department, Dr. Sultan Muhammad Sultan, set an appointment for an urgent surgery to extract the foreign body, and it turned out to be a neglected surgical towel from the previous operation.
For his part, Dr. Mahmoud Qora, Dean of the Faculty and Chairman of the Board of Directors of University Hospitals, thanked the surgical team and the auxiliary medical team, stressing that Menoufia University hospitals have a selection of the best qualified human cadres to deal with such cases that need high capabilities with advanced skill..
Dr. Muhammad Al-Sawy, Executive Director of University Hospitals, indicated that the surgical team is under the supervision of Dr. Sultan Muhammad Sultan, Head of the Urology Department, and headed by Muhammad Kamal Omar, Assistant Professor of Urology, with the cooperation of Dr. Muhammad Abu Zaid, teacher of urology, and Dr. Islam Barsim, assistant teacher of vascular surgery. And Dr. Abdullah Amer, Assistant Lecturer of Urology. The anesthesia team also included Dr. Moataz Al-Taweel, Assistant Professor of Anesthesia, Dr. Enas Abdel Mohsen, Lecturer of Anesthesia, and Dr. Ahmed Shalabi, Resident Physician in the Department of Anesthesia with the assistance of Urology Surgery Heba Abdel Salam, Ahmed Ramadan..
The medical team after extracting the towel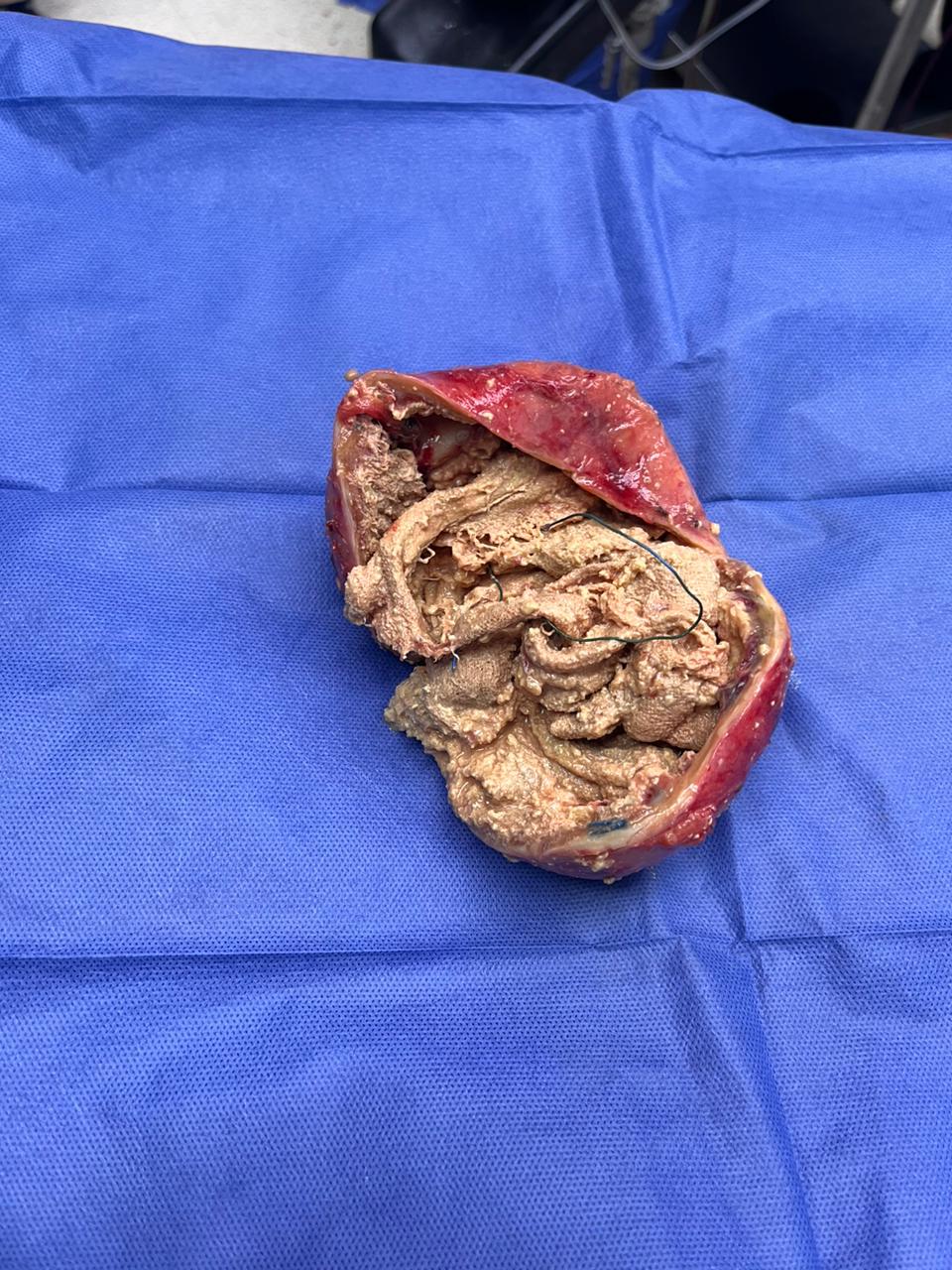 The medical towel after its extraction