Continuous update stick to the situation covid today 29 Mar. 65 Follow the progress. 10 provinces with the most infections from the Situation Administration CenterCovid-19 (Prof.) Check for updates in 10 provinces, ranking found.people infected with COVID-19 maximum
Today's report. New domestic coviral cases. 29 March 2022. Check the top 10 provinces.
29/03/2565 Bangkok or Bangkok has the highest number of COVID-19 cases in the country followed by Chonburi, Nakhon Si Thammarat, Samut Prakan, Nonthaburi, Samut Sakhon, Rayong, Buriram, Songkhla, Nakhon Pathom.
covid vaccination Cumulative number of vaccinations (28 Feb 2021 – 28 Mar 2022)
Total 128,882,039 doses in 77 provinces
Overview of vaccinations on March 28, 2022
Total injection nationwide 121,596 doses
1st needle: 31,552 cases
Second needle: 10,320 cases
Needle 3: 79,724 cases
—————————-
Number of people who received the first dose of vaccine: 55,353,039
Cumulative number of people who received the second dose vaccination: 50,257,501
Cumulative number of people who received the 3rd dose vaccination: 23,271,499
Source: MOPH-IC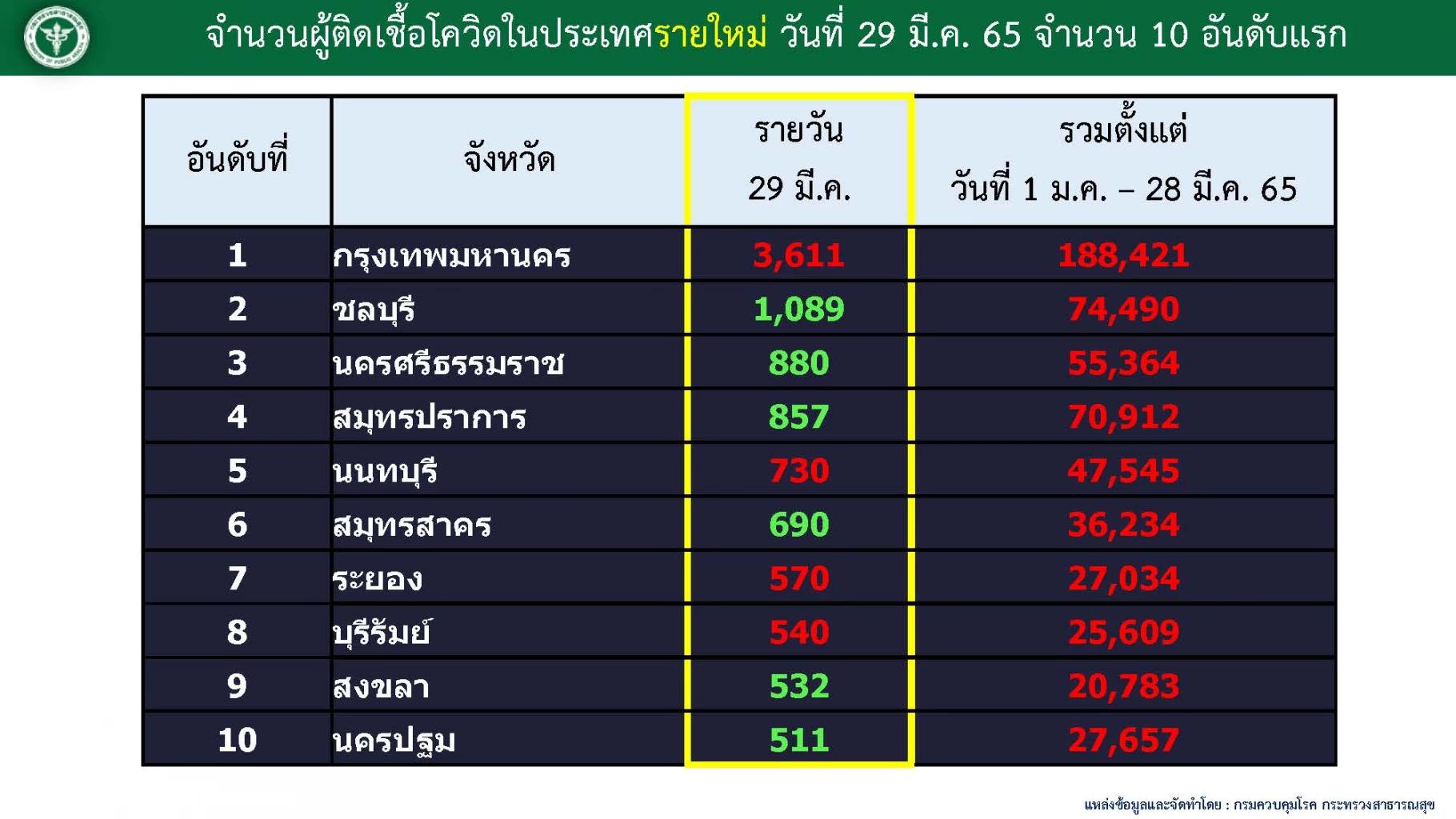 Tuesday, March 29, 2022 at 11:30 a.m.
The situation of COVID-19 infection in the country
Information since January 1, 2022
21,678 new cases
1,351,963 cumulative confirmed cases
1,136,792 people have recovered
3,260 cumulative deaths
—————————-
Data accumulated since 2020
3,575,398 cumulative confirmed cases
3,305,286 people have recovered.
24,958 cumulative deaths
Between February 28, 2021 – March 28, 2022
The total number of vaccinated recipients was 128,882,039 doses.
—————————-
On March 28, 2022, people were vaccinated.
Number 1, 31,552 cases
The second needle of 10,320 cases
The 3rd needle, 79,724 cases
Source: Center for Covid-19 Situation Administration
COVID19 Information Center
Coronavirus disease 2019 (COVID-19) situation around the world
Tuesday, March 29, 2022 at 10:00 a.m.
The total number of infected people is 483,742,242.
58,419 severe symptoms
417,691,709 recovered
6,151,914 deaths
Ranking of countries with the highest cumulative number of infections (including the past 7 days)
1. South Korea, 2,420,239 cases
2. Germany 1,598,846
3. France, 897,689 cases
4. Vietnam, 688,246 cases
5. United Kingdom, 542,453 cases
Thailand is ranked 13th with 176,310 cases.
Covid-19 Situation Administration Center
COVID19 Information Center
MOPH joins hands with BMA to organize 3 services "Foreign workers – elderly people – bedridden patients" Speeding up vaccination against covids
Dr. Suthat Chotanaphan, director of the Institute for Disease Control and Prevention, Department of Disease Control and Vaccination Unit for Group 608 in Bangkok, announced that the situation of COVID-19 in the Bangkok area in the past week Still found an ongoing epidemic Most of them are over 60 years old and have congenital disease. and have not been vaccinated especially the booster vaccine Therefore, it is necessary to urgently understand the elderly. People with congenital disease receive the booster needle if it is due, the Department of Disease Control, together with the BMA and other agencies, has organized services in 3 main activities: Organize a vehicle to support vaccination services in various areas can request for service immediately
2. Organize 6 out-of-hospital vaccination centers for the general public, namely Thanya Park, Central Rama 3, Central Pinklao, Central East Ville, Robinson Ladkrabang. and Wess 1 Sports Building, Bangkok Youth Center The service is available either through QueQ application or walk-in registration. In case of children under 12 years of age, vaccination for children is available only at the Wesn Sports Center.
3. Arrangement of fast moving units, vaccination services for the elderly or congenital disease groups in bed-ridden homes, which the Bangkok Health Service Center will coordinate each community to provide services.
Source: Ministry of Public Health
Dengue fever is different from covid What are the different symptoms?
Dengue caused by dengue virus infection
Symptoms : High fever that floats for about 2-7 days/rash/red face/
Headache/Aches/Lack of appetite/Nausea/vomiting/Abdominal pain
Some people may have black or bloody stools.
Small red hemorrhages may be seen on the skin.
covid 19 caused by the new coronavirus 2019
Symptoms : Low to high fever/ Body aches/ Sore throat/
dry cough or mucus/runny nose/shortness of breath/
Severe pneumonia/vomiting/diarrhea in some cases/
No bleeding spots were found on the skin.
Source: Ministry of Public Health