Mr. Volodymyr Zelensky Ukrainian president Addressing the British parliament on Wednesday, she is confident that freedom will win the war against Ukraine. And Russia will definitely lose.
"We know freedom will win. We know Russia will lose. And we really know that victory will change the world And the world has wanted this change for a long time, "said Zelensky.
"The UK is marching with us to the most important victory of our lifetimes."
during a speech to the UK Parliament Mr. Selenski receives applause from time to time. And Bloomberg News reported that members of the UK Parliament did not look away or get distracted throughout the speech.
part of the announcement Ukrainian President said "Today the devil is still everywhere. and the battle continues." with a frightened voice
Zelensky spoke of the need for Ukraine to receive military support. Especially needed in air combat. both tank-destroying missiles and fighter planes He also praised the importance that every Air Force pilot is king today. which made many listeners realize that King Charles III of the United Kingdom He was also a pilot. Even for a short time in the 1970s
this Ukrainian leader Presents a pilot's helmet as a souvenir to the Speaker of the UK House of Representatives. To emphasize that Ukraine needs a large number of fighter jets. But at this time, many European allies have not delivered or promised to deliver to Ukraine. And these nations have not yet set a no-fly zone over Ukrainian airspace. Which Ukraine sees as an obstacle to the fight against Russia
Stefan Rousseau-by WPA Pool/Getty ImageUK House of Representatives Lindsay Hoyle (L) holds a pilot's helmet bestowed by Ukrainian President Volodymyr Zelensky during a speech to the UK Parliament in London on May 8, 2017. February 2023, near the 1 year anniversary of the Ukrainian-Russian war
Mr. Selensky, who turned from comedian to politician jokingly said at the end of his statement to the UK parliament that
"At the end of the UK Parliament two years ago, I thanked you for the fine English tea. And I say goodbye to this House of Parliament today by thanking you all in advance for this powerful British aircraft." Mr Zelensky said.
"God bless the UK. Long live the king Long live Ukraine"
Mr James Cleverly UK Foreign Minister The post after Mr. Selensky's speech was a great speech. And the UK will support Ukraine until victory.
"What a powerful speech from President Zelensky! We support Ukraine until it wins. Freedom will prevail." Mr. Cleverly Post
After completing the statement to the parliament Mr Volodymyr Zelensky is scheduled to meet with King Charles III at Buckingham Palace in London.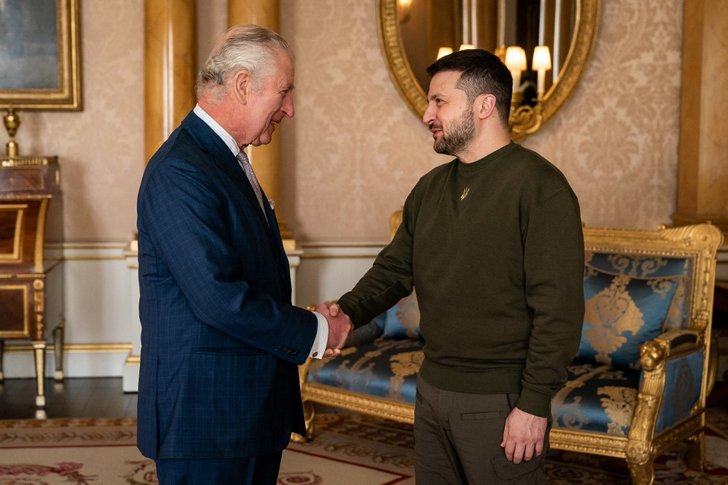 Aaron Chown / POOL / AFPUkrainian President Volodymyr Zelensky (right) holds the hand of King Charles III of the United Kingdom. While receiving an audience at Buckingham Palace, London on February 8, 2023.