Continuous update stick to the situation covid today 5 Feb. 65 Stick to the progress. 10 provinces with the most infections from the Center for Covid-19 Situation Administration (Prof.) Check. Update 10 provinces. Ranking found.Covid-19 infected people maximum
New cases of COVID-19 in the country, February 5, 2022, check the top 10 provinces
1 Bangkok
2 Samut Prakan
3 Chonburi
4 Nonthaburi
5 Phuket
6 Khon Kaen
7 Ratchaburi
8 Pathum Thani
9 Nakhon Ratchasima
10 Nakhon Si Thammarat
05/02/2565 Bangkok or Bangkok has the highest number of COVID-19 cases in the country followed by Samut Prakan, Chonburi, Nonthaburi, Phuket, Khon Kaen, Ratchaburi, Pathum Thani, Nakhon Ratchasima, Nakhon Si Thammarat.
Cumulative number of vaccinations (28 Feb 2021 – 4 Feb 2022)
Total 116,628,065 doses in 77 provinces
Overview of vaccinations on February 4, 2022
Total injection nationwide 517,182 doses
1st needle: 44,122 cases
Second needle: 79,112 cases
3rd needle: 393,948 cases
—————————-
Number of people who received the first dose of vaccine: 52,464,271
Cumulative number of people who received the second dose vaccination: 48,869,535
Cumulative number of people who received the 3rd dose vaccination: 15,294,259
Source: MOPH-IC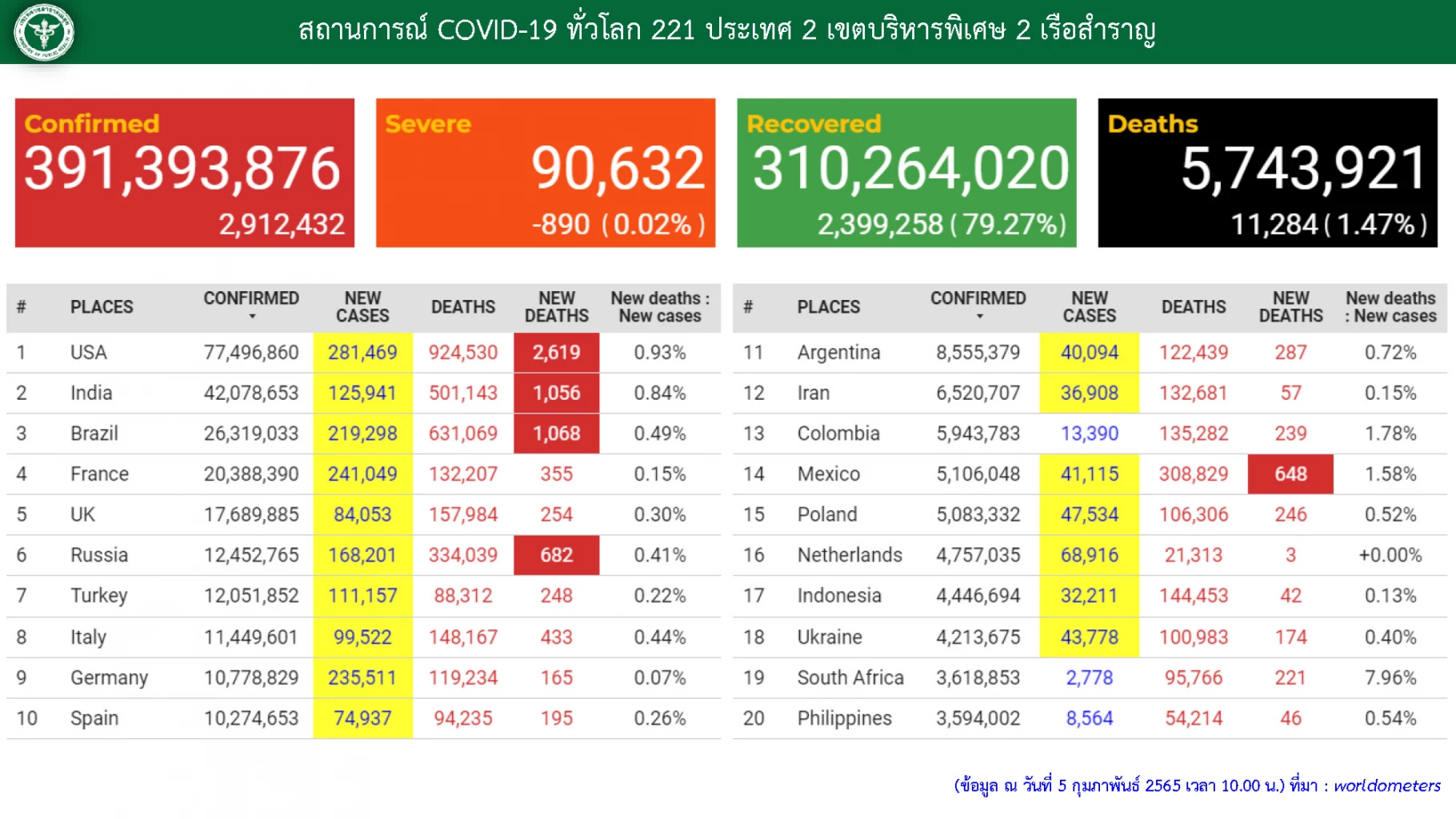 Saturday, February 5, 2022 at 11:30 a.m.
The situation of COVID-19 infection in the country
Information since January 1, 2022
10,490 new cases
262,687 cumulative confirmed cases
206,894 people have recovered
Total deaths 573
—————————-
Data accumulated since 2020
2,486,122 confirmed cases
2,375,388 people have recovered
22,271 cumulative deaths
Between February 28, 2021 – February 4, 2022
A total of 116,628,065 doses of vaccine recipients were accumulated.
—————————-
On February 4, 2022, the recipients were vaccinated.
Number 1, 44,122 cases
The second needle, 79,112 cases
The 3rd dose of 393,948 cases
Source: COVID-19 Situation Administration Center, COVID19 Information Center
Coronavirus disease 2019 (COVID-19) situation around the world
Saturday, February 5, 2022 at 10:00 a.m.
The total number of infected people is 391,393,876.
90,632 severe symptoms
310,264,020 cured
5,743,921 deaths
Ranking of countries with the highest number of infected people
1. United States, 77,496,860 cases
2. India, 42,078,653 cases
3. Brazil: 26,319,033 cases
4. France, number 20,388,390
5. United Kingdom, 17,689,885 cases
Thailand is ranked number 30 with 2,486,122 cases.
Information from the Center for Covid-19 Situation Administration ,COVID19 Information Center
Bamrasnaradura opens registration for 4 needles of COVID vaccination
• Registration is available from 5 – 24 Feb.
• Ready to receive vaccination services starting from 8 Feb.
Source: Bamrasnaradura Institute, Department of Disease Control
Insured Section 40 ha again
The Cabinet approved the New Year's gift 65, reducing the contribution to 60 percent for another 6 months (February – July 65) for the procedure of the said ministerial regulation. The Ministry of Labor by the Social Security Office will expedite the process in order to enact it as a law within the specified time frame.
repeat!! to reduce contributions but the benefits still complete
Source: Social Security Office and B.E.C.